CLASSICAL SICILY 
The largest of the Mediterranean islands, Sicily is the 'ball' situated South West of Italy's 'boot'. Steeped in history Sicily is famous for many things but The Valley of the Temples, Mount Etna, the birthplace of Achimedes, it's wonderful cuisine, stunning beaches and of course it is where the Italian Mafia originated.
A mixture of many cultures, Sicily has a different 'vibe' than seen on mainland Italy with many Sicilians sharing many varied traits from Arabs, Catalans, Spanish and even Vikings.
You will be welcomed warmly into 'la famiglia' when visiting Sicily with it's traditional restaurants, coffee shops and quaint villages, not to mention the sprawling white sandy beaches and a plethora of historical places to see and visit. Bellisimo!
7 Nights
13 Jun, 12 Sep, and 10 Oct
DAY 1 - ARRIVAL
Arrive at Palermo airport and transfer to the Hotel Atheneum for an overnight stay
DAY 2 – PALERMO / MONREALE
After a delicious breakfast at the hotel you will meet your guide and prepare for a full day of breathtaking sights with your new friends.
Palermo Cathedral
Built by the Normans in 1184 this Roma Catholic cathedral is a must see when visiting Palermo, impressive architectural exteriors house many treasure of gold, silver and a diverse art collection.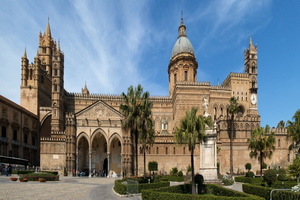 Cappella Palatina – The Palatine Chapel
Inscribed in the UNESCO's World Heritage list, the Palatine Chapel is worth the visit to Palermo alone. Stand in awe beneath some of the most beautiful Byzantine mosaics ever produced, embracing years of different cultures dating back to 1130.
San Giovanni degli Eremiti
A prefect example of Norman rule in Sicily, this former mosque was once home to the famous Sicilian hermit monk Saint William of Monetrvergine who was known to keep a wild wolf that he tamed after the wolf had killed one of his donkeys.
Abbazia di Monreale
One of the greatest examples of Norman architecture built in 1174, well known for the legend that The Holy Virgin appeared to William II of Sicily whilst he napped under a Carob tree and suggested he build a church on that very spot.
Time at leisure
Visit of a typical Sicilian market called a "Capo" which will entice into the full spirit of Sicily.
DAY 3 - SEGESTA / MARSALA / TRAPANI / ERICE
After breakfast you will depart for a full day excursion to Segesta.
SEGESTA
The Doric Temple
Overlooking the Gulf of Castellammare this wonderfully preserved temple was built in 420 BC and is considered to be the best example of Doric architecture in Europe.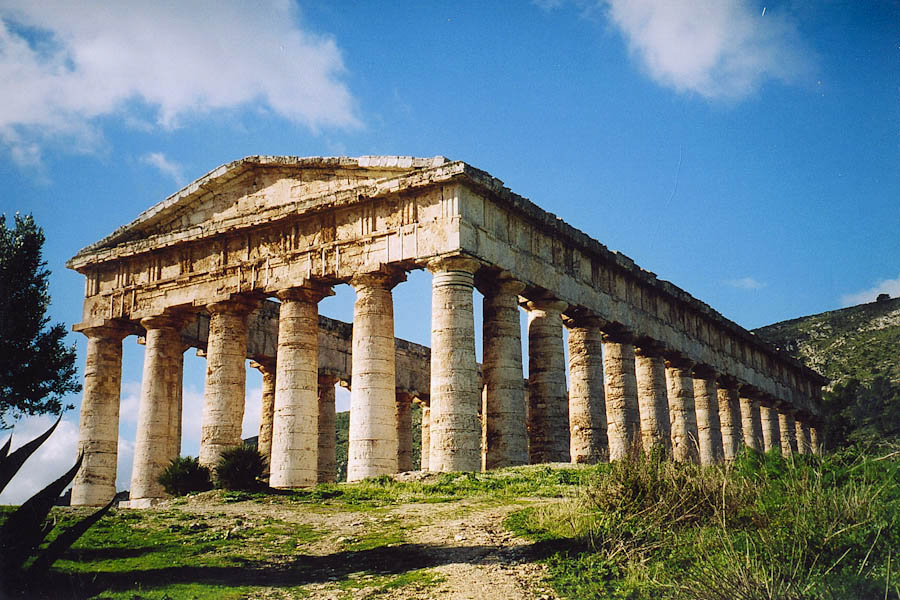 The Greek Theatre
Located at the top of Mount Barbaro this amphitheater can hold up to 4000 spectators and is still used every summer for plays, dances and musicals.
MARSALA
A coastal town on the West coast of Sicily, famous for it's ancient ruins and fortified Marsala wine. Here we stop for a brief taste of this tasty liquor.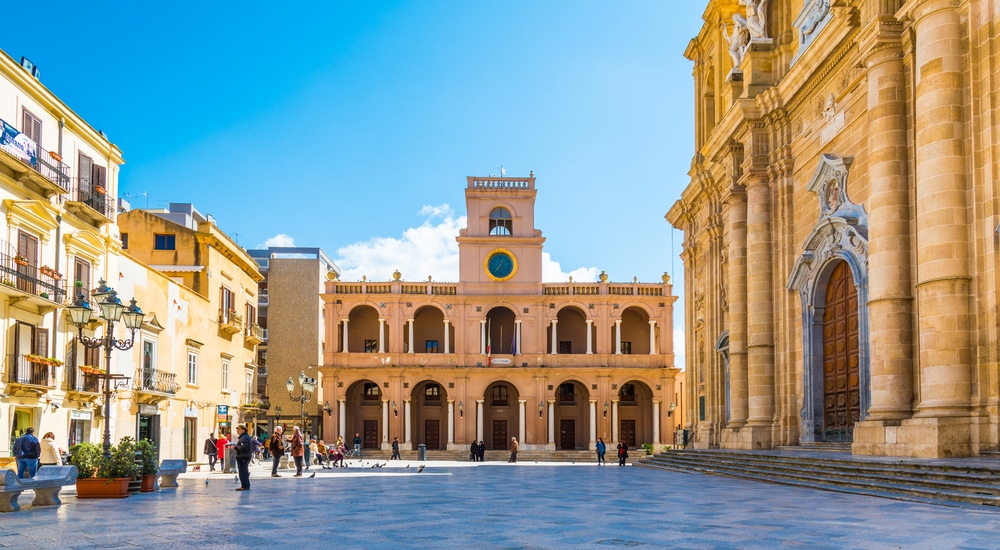 TRAPANI
The Salt Museum
Dating back 300 years this quaint museum displays all the techniques and stages of salt extraction and refinement throughout the years.
ERICE
A spectacular fortified hill town high above Trapani harbour, dominating the wonderful surrounding landscape at nearly 800 meters high.
DAY 4 – SELINUNTE / AGRIGENTO
SELINUNTE
One of Sicily's great archeological sites, this forgotten gem was rediscovered in the16th Century and is still revealing many ancient artifacts to this very day.
AGRIGENTO
The Valley of the Temples is considered to be the one of the most important sites in classical Sicilian culture, the spirits of gods and goddesses fill the air in this enchanted valley.
Stay overnight in Agrigento.
DAY 5 – TAORMINA
After a tasty hotel breakfast you will today visit the art city of Piazza Armerina and the Roman Villa del Casale with it's captivating mosaics and splendid art collections dating way back to the 4th Century AD.
Moving on to Taormina and a short visit to Enna, the highest capital in Europe with magnificent views across beautifully coloured fields and distant sunsets.
Stay in the Taormina overnight.
DAY 6 – SYRACUSE
Today we visit the archeological site of Syracuse with its Roman amphitheater, the Teatro Greco and the ear shaped limestone cave known as Orecchio di Dionisio.
Return later in the day for an overnight stay at the hotel.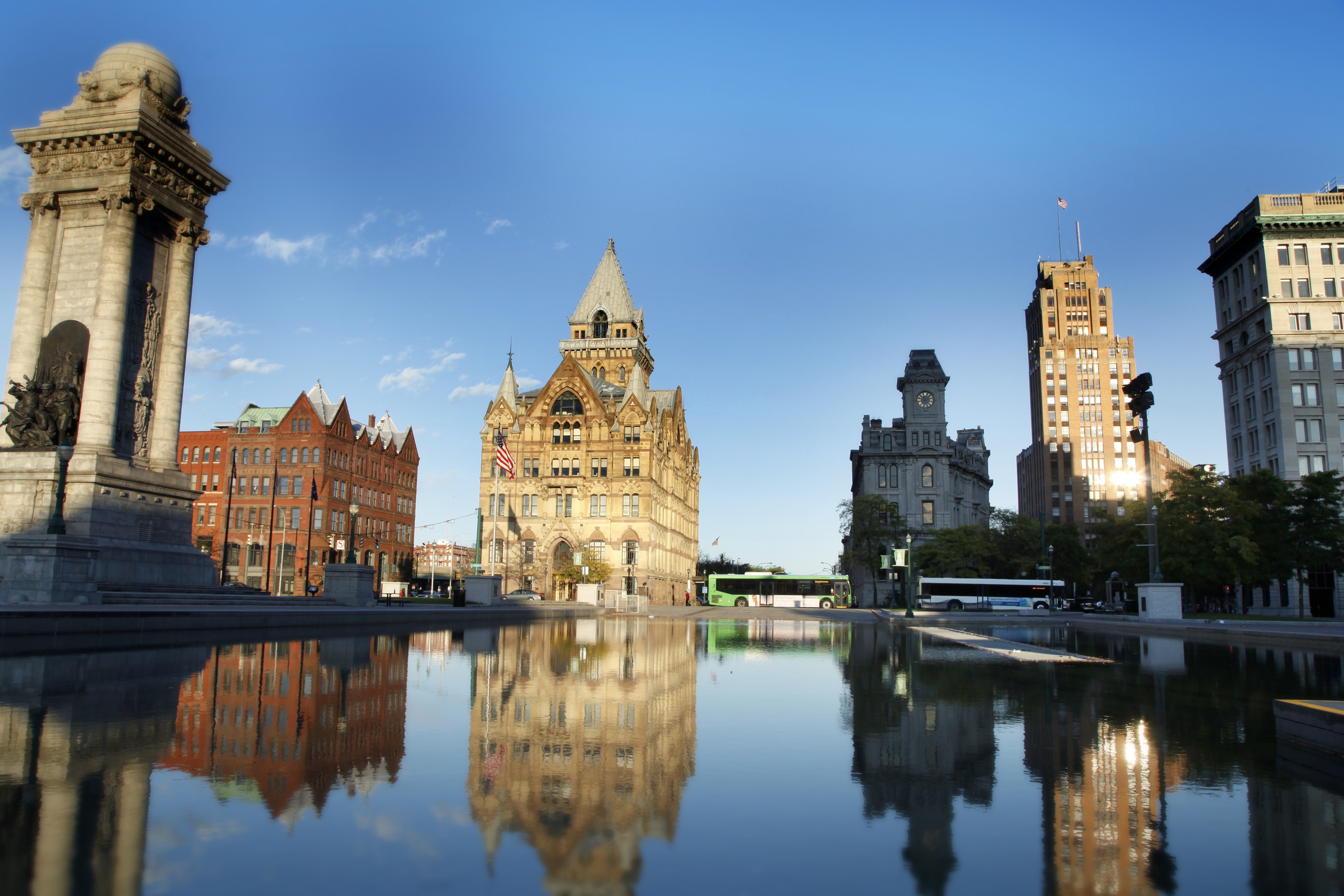 DAY 7 – ETNA
Make sure you have your cameras ready for this awe inspiring natural phenomenon that is Mount Etna. One of the most active volcanoes in the world and certainly the highest at more than 3327 meters.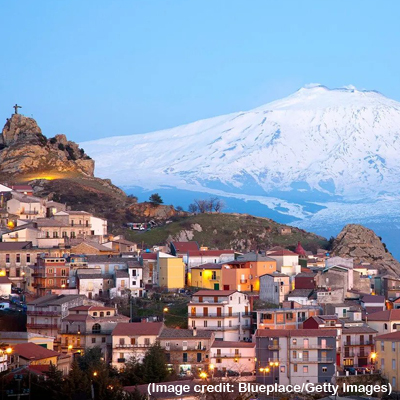 In the afternoon return to Taormina for some free time to enjoy the wonderful night time the city has to offer then on to the hotel for a well deserved drink at the bar before bed time.
DAY 8 - FARWELL
After breakfast depart to Catania airport and say 'addio per ora' (goodbye for now) as we are sure you will want to return real soon to experience everything wonderful Sicily has to offer.
*Excludes Entrance fees to Monuments & Museums*
Palermo – Hotel Atheneum
A modern 3 Star hotel a short stroll from the old town and local markets. 80 well equipped rooms offer our guests comfort, style and all the modern features to make your stay in Palermo and experience to remember.
Enjoy and relax in the comfortable lounge bar or taste the most famous Sicilian cuisine in the restaurant or feast on the large daily buffet filled with Mediterranean dishes.
All rooms are equipped with television, air conditioning, telephone, mini bar, a safe and an automatic wake up service, in addition to a private bathroom with shower and hair dryer.
Wi-Fi is available throughout the hotel to give guests internet access from their devices at any time of day, anywhere in the hotel.
Agrigento – Hotel Tre Torri
A perfect hotel for single travellers located near the wonderful beaches and vibrant nightlife of Agrigento. Enjoy local cuisine in the traditional restaurant with such delicious as Pasta alla Norma, ratatouille, Mediterranean salads and, of course, the pasta.
Take a dip in the outdoor pool with sun terrace equipped with deckchairs and umbrellas, or the indoor swimming pool with a small gym and sauna, TV room, bar and veranda for your relaxation.
Rooms are equipped with all amenities including air conditioning and heating, Television, direct dial telephone, electronic safe, Hair dryer, Wi-Fi, mini bar, breakfast room, private bathroom with shower and large space to welcome guests and friends.
Acireale – Hotel Santa Tecla
This 6 floor 170 room hotel is furnished with all contemporary comforts offering guests a high level of service throughout.
Rooms overlook the sea or the internal garden, with each room consisting of air-conditioning, TV, safe, mini bar, private bathroom and hairdryer.
This flagship hotel is completed with three internal and one external restaurants with sea views, ideal for both dinners or quick lunches or maybe try the elegant Panarea White room, located on the fifth floor with breathtaking views of the Ionian Sea, the outdoor swimming pool and the private descent to the sea with large solarium and pool bar.
We're sorry ! New departures coming soon.
What is included in the tour
Stay at the 3* Hotel Atheneum (Palermo)
Stay at the 3* Hotel Tre Torri (Agrigento)
Stay at the 4* Hotel Santa Tecla (Acireale)
Your own single occupancy en suite room
Half Board - Daily Breakfast & dinner
Glass of Wine, Bottle Water, Coffee with Dinner
Wine tasting in Marsala
Excursions Included as per the Itinerary
Flights from London Gatwick or Manchester 
Flights from your local airport at a small supplement
All Taxes & Surcharges
20Kg Baggage allowance and 5kg hand baggage.
Airport transfers
Dedicated GoSingles host at the hotel
Welcome get together
Coordinated site-seeing and activities (Optional Extra)
Meet other single, like minded travellers who wish to socialise and make new friends
Flight Timings - 
Outbound - London Gatwick 05:50 - Palermo 09:40 
Inbound - Palermo 10:15 - London Gatwick 12:15 
Outbound - Manchester 16:30 - Palermo 20:35 
Inbound - Palermo 21:05 - Manchester 23:20
Price excludes Tourist Tax Euro 2/ person/ day to be paid locally.
Use this code to avail this offer
- SAVE £50 ! Use code: SAVE50
Holiday Types
Festive, Multi Activities, Sun & Sand, First Singles Holiday, Over 50s, Discovery Tours, Late Deals