Fall in love with Tuscany, possibly the greatest place to admire art in the whole world, a place to view extraordinary paintings, sculptures, frescoes and architectural masterpieces, a place to explore Tuscany's extraordinary countryside and a place to sample some of the finest wines that Italy has to offer.
Considered to be the birthplace of the Italian Renaissance, Tuscany's capital Florence houses some of the world's most famous art and architecture, Michelangelo's David Statue, the beautiful works of Botticelli and the Duomo basilica to name but a few.
Merge these timeless masterpieces with Tuscany's natural beauty, culture and cuisine to guarantee a real Italian treat.
7 Nights
22 Jun, 24 Aug, 21 Sep, and more
DAY 1 - MONTECATINI
Benvenuto in Italia!!
Upon arrival at The 4 Star President Hotel you will be warmly welcomed to your accommodation and new friends with a drink, a wonderful dinner and a relaxing overnight stay before your Tuscan experience begins the following morning.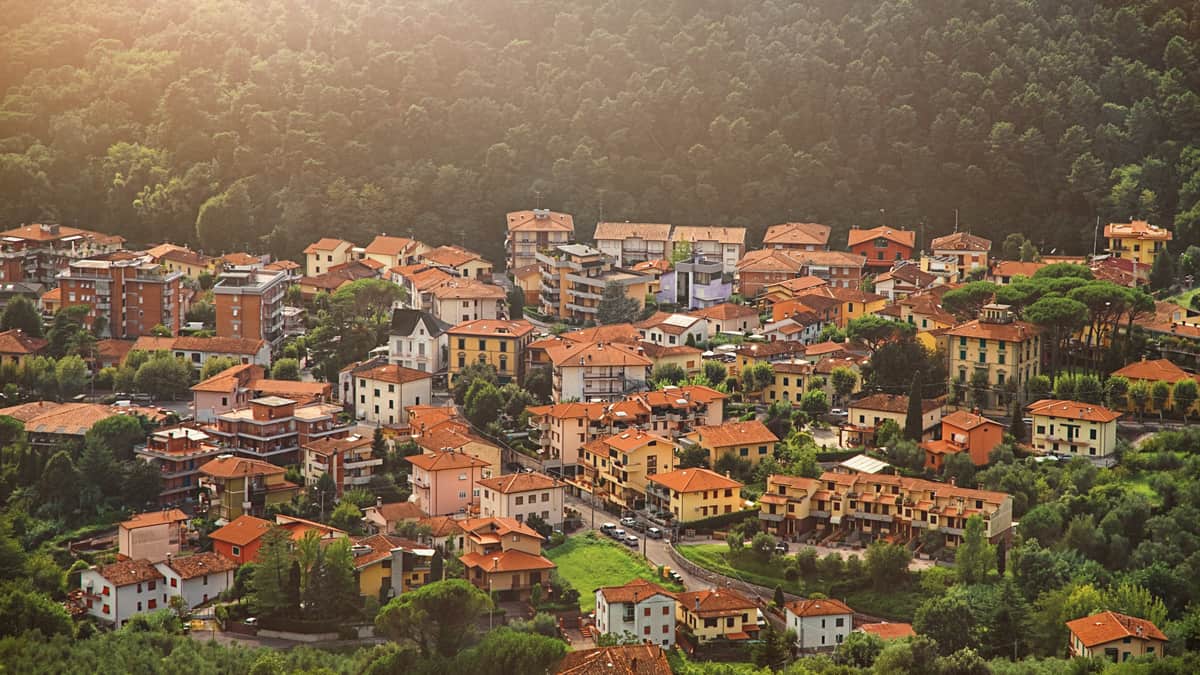 DAY 2 - FLORENCE
Breakfast is served before departing by train to the breathtaking City of Florence for a full day guided tour.
There's no better place to start than in Dome Square, Piazza del Duomo, the heart of the City from which all other attractions emanate. One of the busiest areas of Florence, tourists from all over the world flock to experience the city in all its magnificence.
Before some free afternoon time you will visit the principal Franciscan church in Florence, the Basilica di Santa Croce (Basilica of the Holy Cross), an old marshland site outside of the city walls before the building of the Basilica began.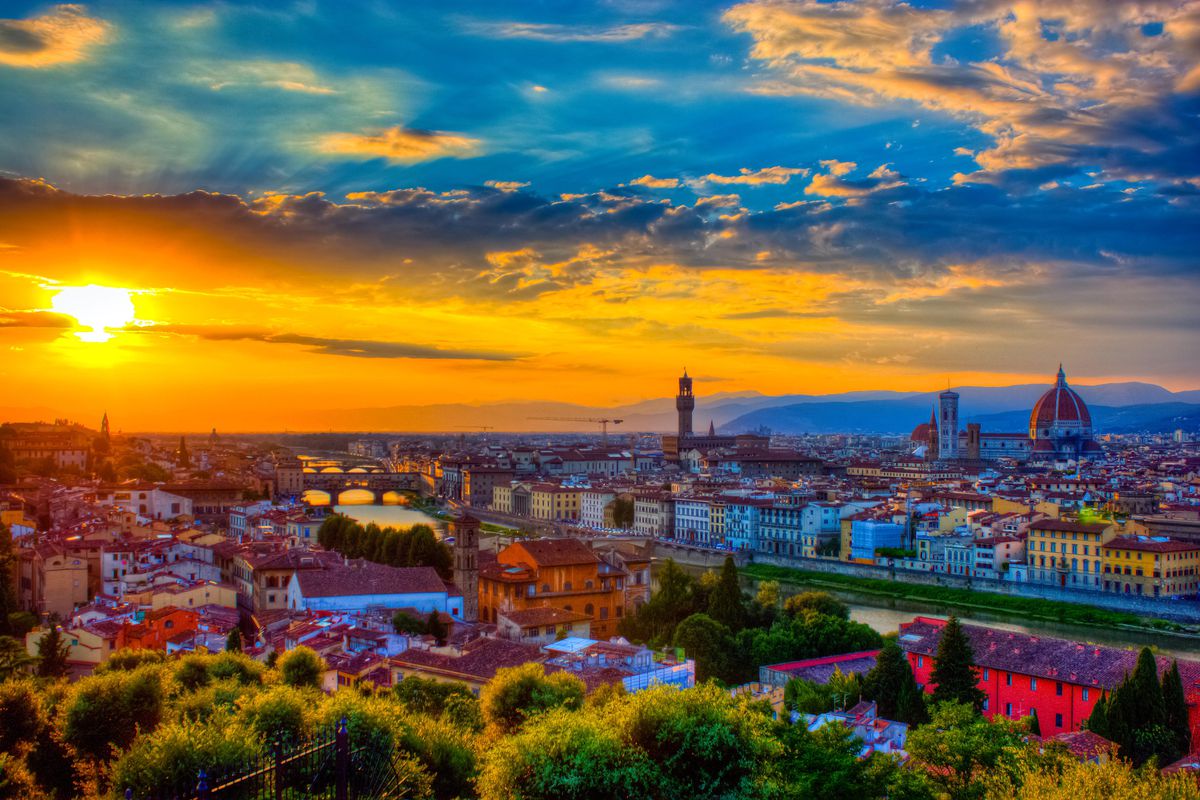 In the afternoon visit The Uffizi Gallery where you will experience a collection of absolute masterpieces from 14th Century Renaissance powerhouse artists such as Giotto, Simone Martini, Piero della Francesca, Beato Angelico, Filippo Lippi, Botticelli, Mantegna, Correggio, Leonardo, Raffaello, Michelangelo and Caravaggio. A bucket list experience not to be missed.
After a trip over to the Piazza dell Signoria (Signoria Square) which was the centre of political life in Florence during the Renaissance period, we now hop over to the Loggia del Lanzi at the corner of the Piazza to view the wide impressive arches open to the street.
Before heading back to the hotel you visit the Ponte Vecchio bridge (Old Bridge) that spans the Arno River. Once a defensive position it is now famed for the many shops with artisans selling their wares as you cross over.
A tasty dinner and overnight stay entices you back to the hotel after your wonderful day in Florence.
DAY 3 - FREE DAY
Do as you please and take it at ease!
Or you may want to take advantage of our extra excursions to the wonderfully relaxing thermal area of Montecatini with its 'old style' restaurants and bars, all reachable by a stunning cable car ride up the inclines of Montecatini Alto.
Dinner is served at the hotel with an overnight stay.
Day 4 - SAN GIMIGNANO / SIENA (optional extra)
After breakfast we now head out to the Medieval town of San Gimignano, known as the Town of Fine Towers, this hilltop town with its 13 towers and surrounding walls makes for an imposing sight against the bright blue skyline.
We visit the unique triangular Cisterna Square, The Collegiate Church of Santa Maria Assunta, Palazzo del Popolo (Peoples Palace) and the imposing 13th Century square outside the Church of St Augustine.
A little wine tasting along the way helps us kick back and relax a while before moving on to Siena.
A stunning hilltop city Siena is renowned for its cuisine, art, museums, medieval cityscape and the famous Palio, a horse race held twice a year that goes way back 800 years.
Your guided tour will take in the Piazza del Campo, the Palazzo Sansedoni, the Palazzo Publico and the wonderful Medieval Cathedral.
Another wonderful day takes us back to the hotel for dinner, drinks and thoughts of what Day 5 has to offer.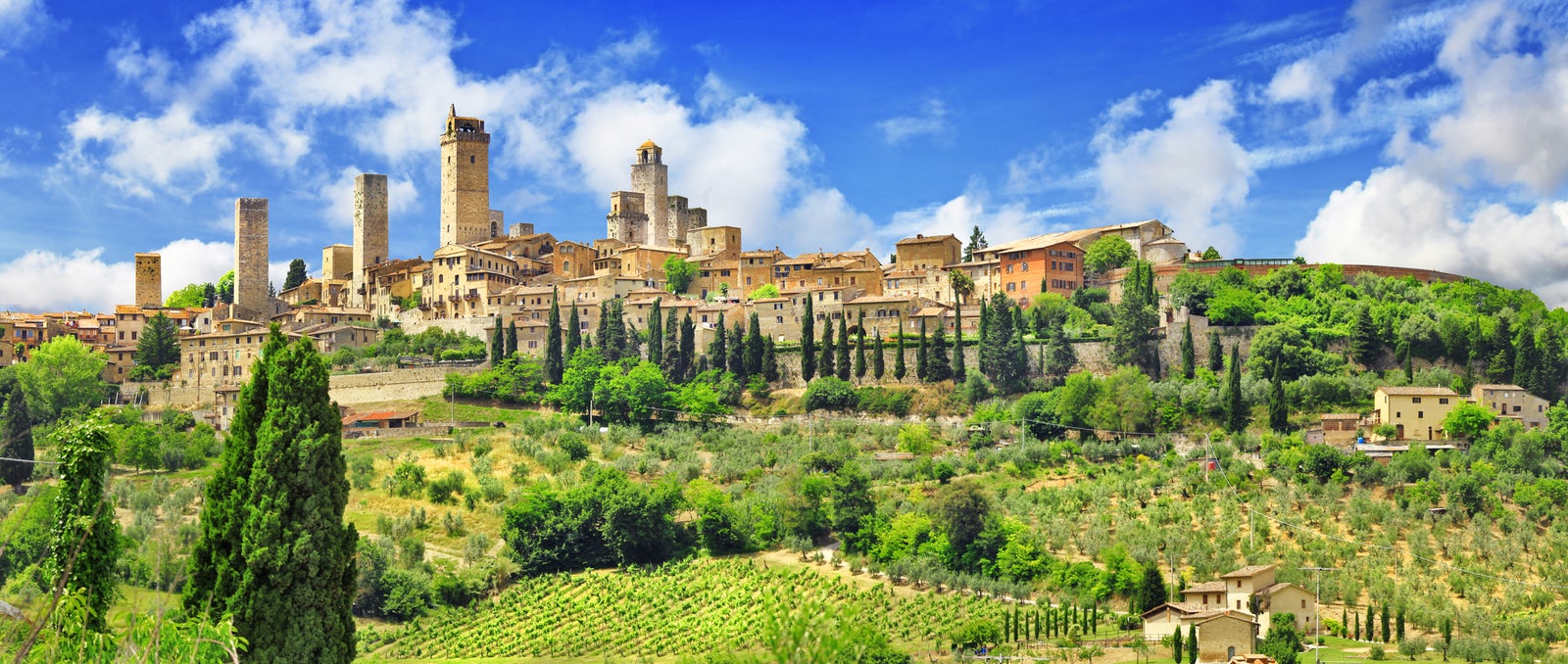 Day 5 - FREE DAY
Day 5 gives you the opportunity to do whatever you want to do, your Go Singles representative can supply you with information of many excursions in the area should you wish to head out and explore, or maybe just chill by the pool and chat with your new friends. It's your call today!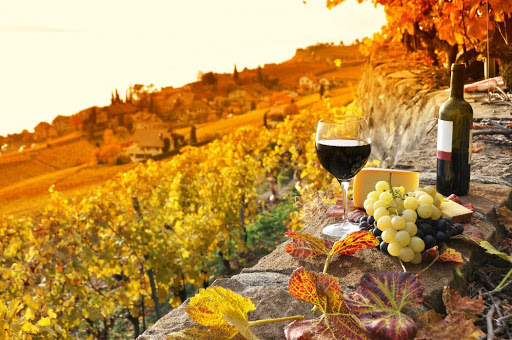 Day 6 - LUCCA / PISA
A post breakfast train journey takes us today to one of the most famous landmarks in the world but before that we head to Lucca, the perfect Italian city for a day trip to explore. Walk the narrow streets within the city or take to the pedestrian promenade which is one of the city's main attractions where you are free to sample the city's delights.
After lunch in Lucca we hit the tracks again with a rail ride to Pisa to explore the Piazza del Miracoli and it's world famous leaning tower. The Square of Miracles is the perfect name for this afternoon's attraction and has been a UNESCO World Heritage Site since 1987.
Just make sure you don't fall over when taking that perfect shot of the tower!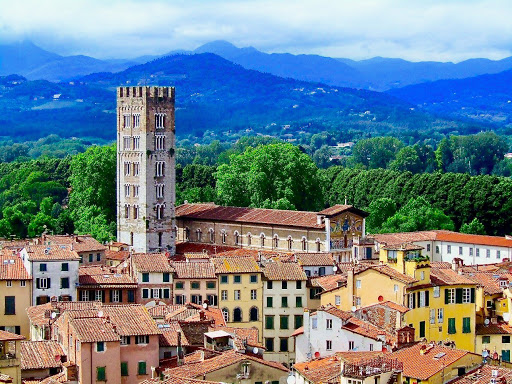 Day 7 - FREE DAY
After breakfast we give you another 'do whatever you want' day on Day 7, your Go Singles representative has loads of extra excursions should you want to explore more or just hit the pool and enjoy a few cold ones in the sunshine.
Day 8 - FAREWELL TO TUSCANY
Sadly it's time to say 'addio' to Tuscany and head home but not before one last wonderful breakfast and a chance to swap numbers with your new friends.
*Excludes Entrance fees to Monuments & Museums*
HOTEL PRESIDENT ****
The President is a gem of a hotel with many traditional features mixed with modern amenities, situated perfectly to explore Tuscany and all it has to offer.
Each of the 47 rooms are equipped with all modern comforts such as satellite TV, telephone, air conditioning / heating and free WiFi.
The hotel's restaurant serves fresh seasonal produce with a local Tuscan gastronomic flavor, producing mouthwatering regional dishes.
Outdoors you can relax at the poolside whilst enjoying a few cold drinks from the wine bar in the sunshine or jump in the hot tub with a few friends and swap stories of your time in Tuscany.
We're sorry ! New departures coming soon.
What is included in the tour
Stay at the 4* Hotel President
Your own single occupancy en suite room
Half Board - Daily Breakfast & dinner
Glass of Wine, Bottle Water, Coffee with Dinner
Excursions Included as per the Itinerary
Flights from London Gatwick or Manchester 
Flights from your local airport at a small supplement
All Taxes & Surcharges
20Kg Baggage allowance and 5kg hand baggage.
Airport transfers
Dedicated GoSingles host at the hotel
Welcome get together
Coordinated site-seeing and activities (Optional Extra)
Meet other single, like minded travellers who wish to socialise and make new friends
Flight Timings - 
Outbound - London Gatwick 05:50 - Pisa 09:05 
Inbound - Pisa 09:40 - London Gatwick 11:00 
Outbound - Manchester 06:15 - Pisa 09:40 
Inbound - Pisa 10:15 - Manchester 11:40
Price excludes Tourist Tax Euro 2/ person/ day to be paid locally.
Use this code to avail this offer
- SAVE £50 ! Use code: SAVE50
Holiday Types
Festive, Multi Activities, Sun & Sand, First Singles Holiday, Over 50s, Discovery Tours, Late Deals