Experience some of the greatest spectacles in India with a tour that embraces
India's Golden Triangle, where you'll visit the three most visited cities in the country's north west - Delhi, Agra and Jaipur, and get to see the world famous architectural marvels of the Taj Mahal.
Discover the capital Delhi, and the blue washed houses of Jodhpur with more architectural marvels in Udaipur, Jaipur and Pushkar.
Explore a country like no other, with its bustling bazaars, tantalising cuisine and a canvas of colour wherever you visit, this truly is a trip of a lifetime. It's inspiring structures, architecture and historic rich tapestry will wash over you and leave you wanting more. 
11 Nights 12 Days
Available on request
Day 1 – Welcome to Delhi
Your host will greet you, and you'll be transferred to your hotel to settle into your first night and all that is India. You'll enjoy an afternoon of sightseeing with a tour around Old and New Delhi.
You'll be instantly struck by the stark contrast between bustling, narrow streets of Moghul City and the vast boulevards of New Delhi.
Visit the Mahatma Ghandi memorial made entirely out of black marble, located in a luscious park by the river Yamuna.  You'll also get the opportunity to see The Masjid e Jahan Numa, commonly known as the Jama Masjid of Delhi, one of the largest mosques in India.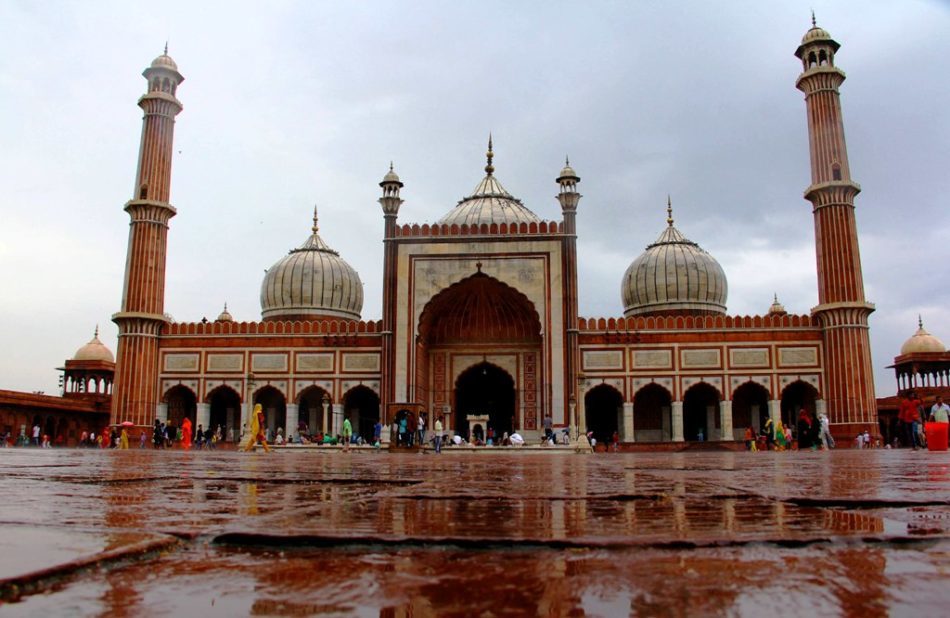 Day 2 – Delhi to Agra
Today you'll visit one of India's most visited sites, the world famous Taj Mahal. This marble mausoleum will quite literally take your breath away - built by Shah Jahan in memory of his wife Mumtaz Mahal, this masterpiece of Indian art will stay with you forever.
The Taj Mahal habitually steals the spotlight in Agra, but the city also has one of India's most significant Mughal forts – Agra Fort. The remaining part of the day will see you marvel at its stunning architecture. This walled city is home to decorated palaces and notable gates of Delhi and Lahore.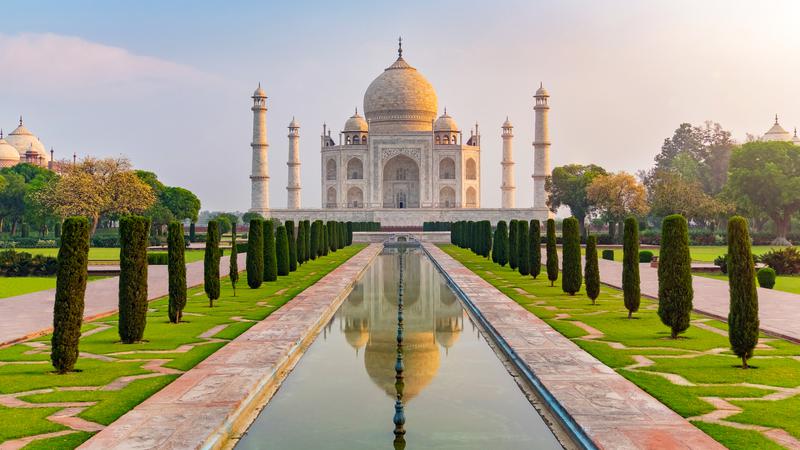 Day 3 – Agra – Fatehpur Sikri – Jaipur
Today you'll pass through the deserted yet beautiful city of Fatehpur Sikri en route to Jaipur. Now a ghost town, it was once the capital of the Mughal Empire, but was abandoned by its creator for lack of an adequate water supply, here you'll get to visit the beautiful Panch Mahal Palace.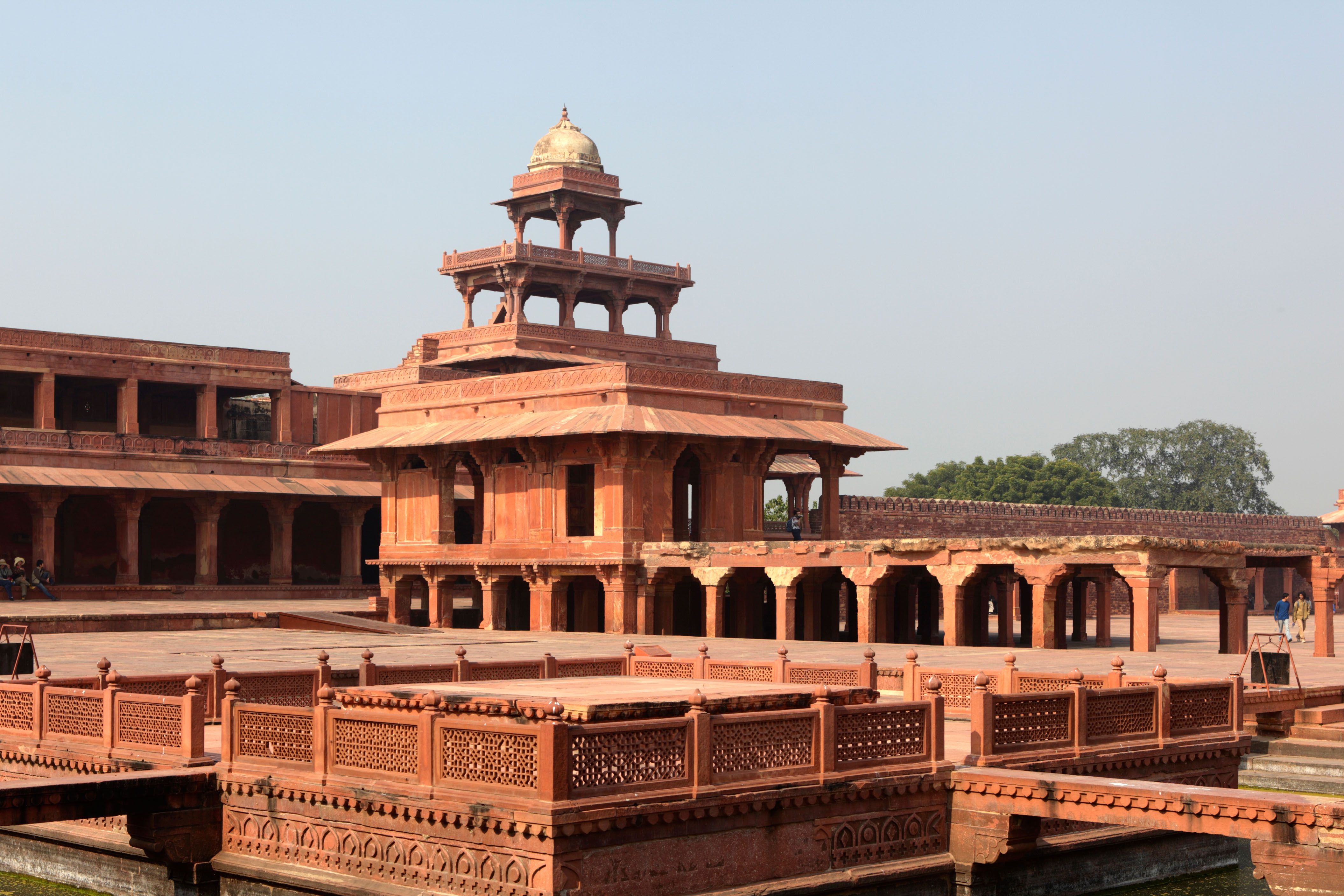 Day 4 – Jaipur
Today you'll visit Amber fort, a well maintain fort of Rajasthan, choose to enjoy an elephant or jeep ride up to the entrance.  The magnificent fort comprises an extensive palace complex, divided into several sections, whilst you can enjoy fine views from the palace ramparts over picturesque Maota Lake below.
In the afternoon you'll visit Hawa Mahal, also known as "Palace of Breeze". This fascinating fairy tale iconic structure stands at five storeys high and its façade is a patchwork of latticed windows, red and pink sandstone.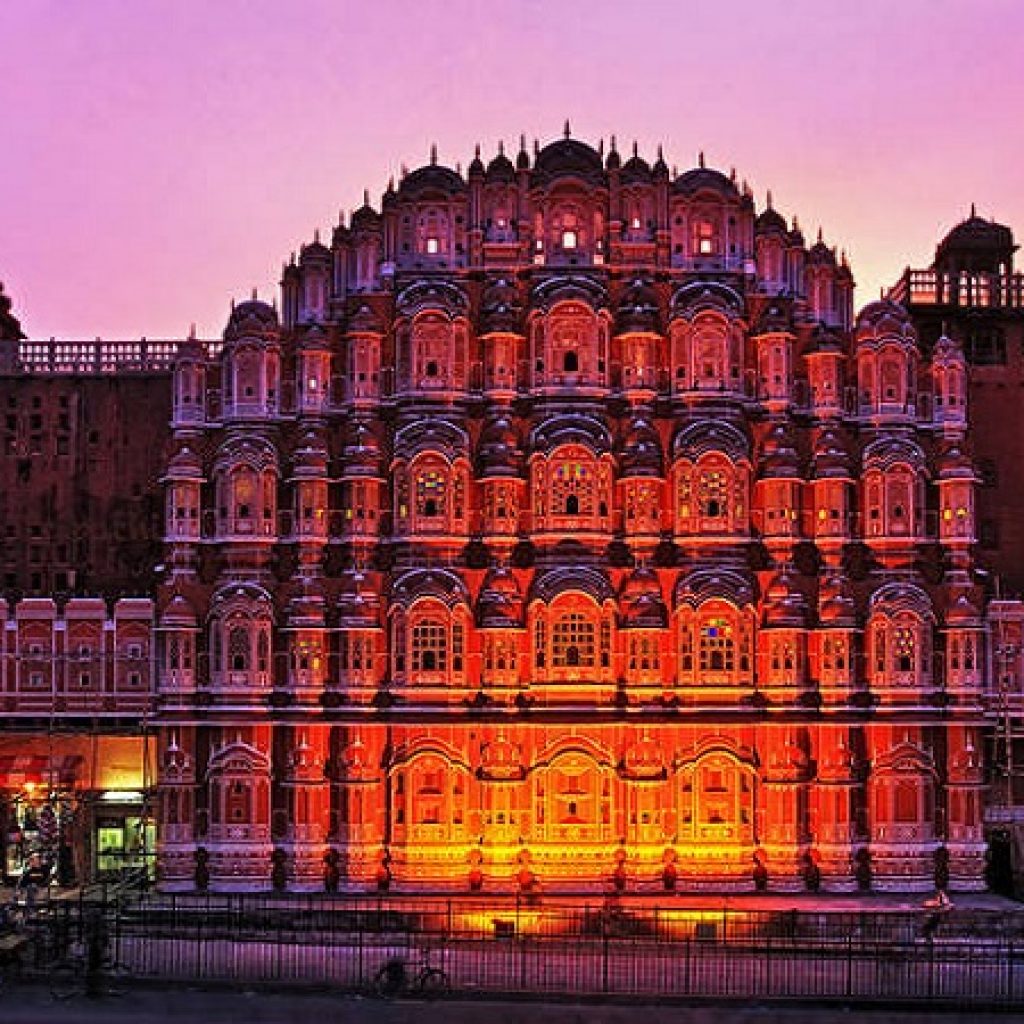 Day 5 & 6 – Jodhpur
After breakfast you'll set off to Jodhpur for days rest at your hotel. At your own leisure, you'll have the opportunity to absorb your wonderful surroundings, mix with your fellow solo travellers and take some time to rest for the coming days.
The following afternoon you'll experience a city tour capturing the impressive 5km structure of Mehrangarh Fort, built high above Jodhpur it offers magnificent views out over the blue-washed houses peppering the landscape.
Later on you'll visit a group of royal cenotaphs called the Jaswant Thada, all beautifully crafted in white marble and surrounded by scenic gardens and lake before heading to the Umaid Bhawan Palace Museum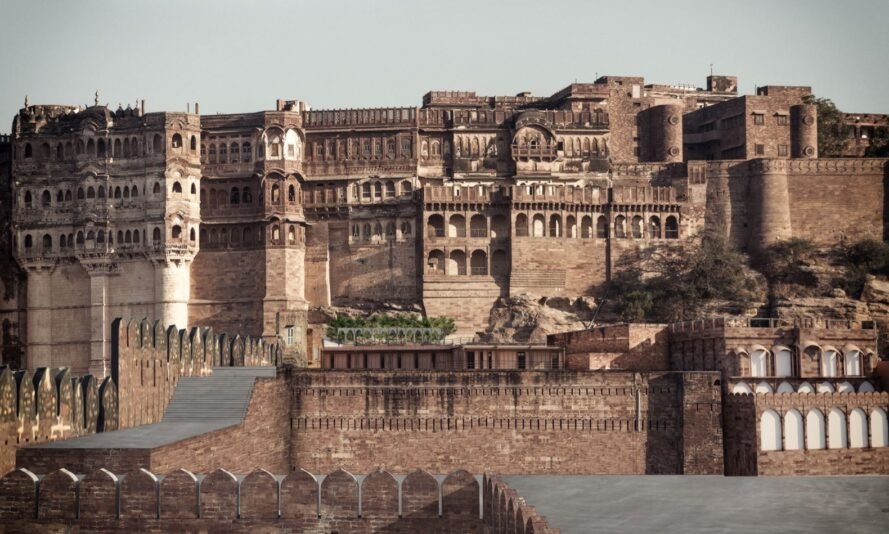 Day 7 – Udaipur
Today you'll take an idyllic drive through the Aravalli Range, one of the most popular mountain ranges in the western part of India. Here you'll visit an important marble Jain temple. Arriving in Udaipur, known fondly as the 'City of Sunrise' you will enjoy a leisurely boat ride on Lake Pichola an artificial lake built in the 14th century and one of the cities major attractions – take in the final hours of sunlight as it falls over and lights up the cityscape – you're sure to fall in love with this setting.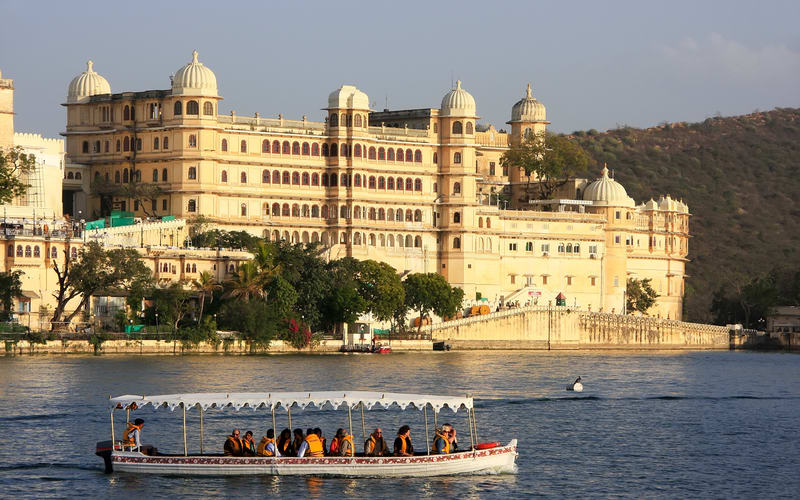 Day 8 – Udaipur
On your second day in Udaipur, in the morning you'll discover City Palace, one of the architectural marvels of Rajasthan, located peacefully on the banks of Lake Pichola. From the upper terrace of the palace, you'll enjoy incredible views overlooking the city and its beautiful gardens which you'll get to explore further later in the day.
Day 9 – Udaipur to Pushkar
Today you'll visit Pushkar Lake, where a dip in this sacred lake is believed to cleanse sins and cure skin diseases.  As night falls you'll take a tour to the Pushkar Brahma temple, one of the few temples in the world, which is dedicated to the lord Brahma. The temple, which is set on a high plinth, is approached through a number of marble steps leading to a beautifully decorative entrance archway. After taking in its wondrous sites, you'll stroll through the local bazaar, sure to awaken your senses.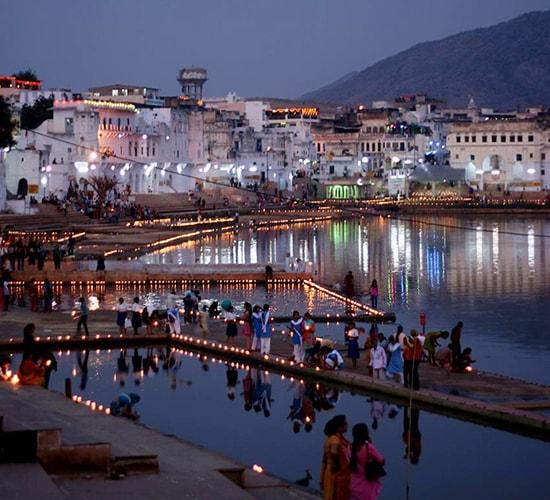 Day 10 – Pushkar – Ajmer – Train to Delhi
Today you'll be taken on a tour of Ajmer a bustling, chaotic city, enveloped in green hills. In the afternoon, you'll jump aboard a first class train to New Delhi, soaking up the views and culture from the comfort of seat in the company of your fellow travellers.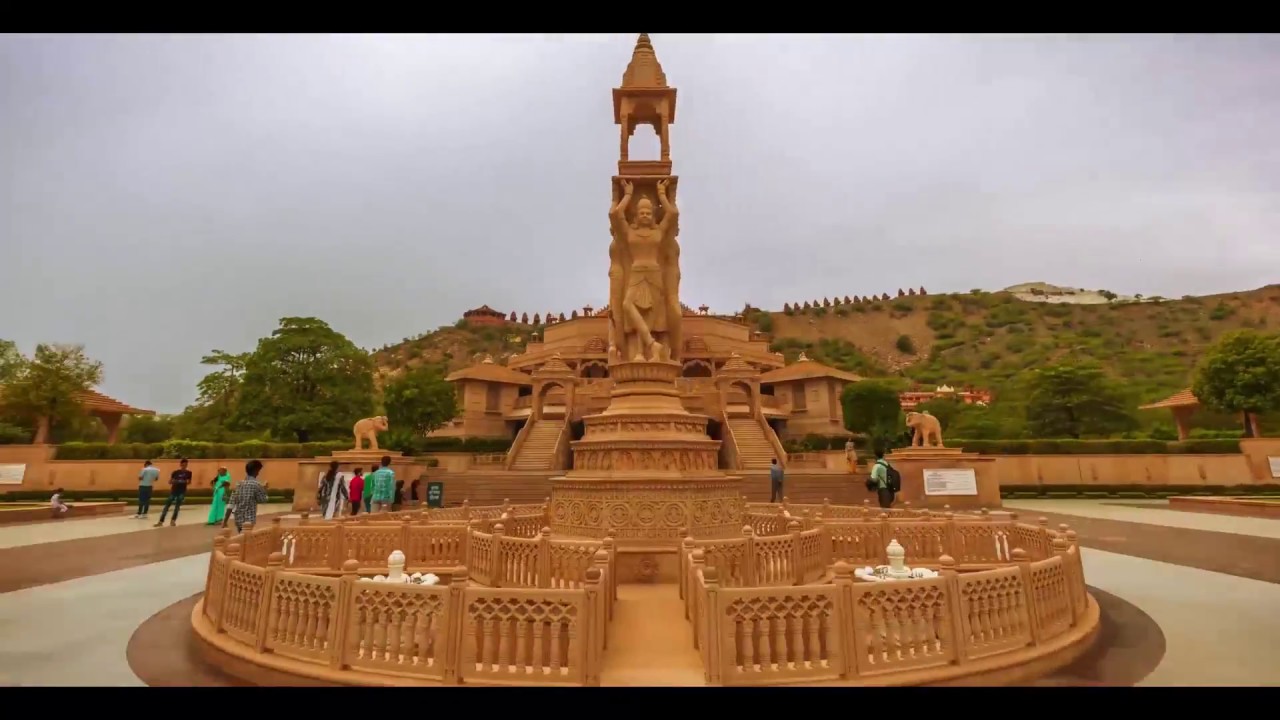 Day 11 – Delhi
Day at leisure, free for sightseeing, shopping and relaxing  
Day 12 – Departure to the UK
We say farewell to newfound friends and a country steeped in history and charm, transferring to Delhi airport for your homeward journey.
Ranthambore Extension (3 nights / 4 days) 
If you opted for the Ranthambore extension, you'll begin the excitement all over again on, as on Day 12 you'll travel from Delhi to Ranthambore by train, which will take approximately six hours.
The Ranthambore National Park is a heavenly experience for wildlife lovers, especially since you can easily observe the Royal Bengal Tiger whilst they roam about in their natural habitat and the ruins of antiquated forts – an experience to truly behold!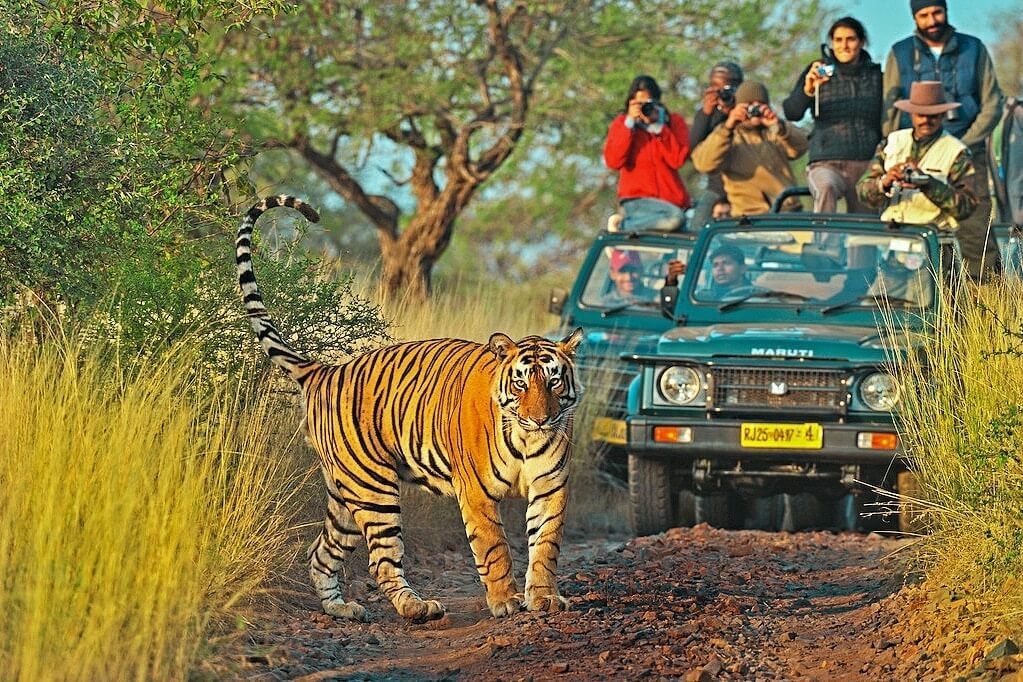 Whilst here, you will stay at the 4-star Jungle Villa on a full board basis, whilst having the chance to experience three wild life safaris which are included in your itinerary.
Accommodation
The accommodation provided throughout your tour, will include the following 4 star hotels:
Delhi - Jaypee Sidharth,
Agra - Crystal Sarovar Premiere,
Jaipur - Fortune Metropolitan,
Jodhpur - Fern Residency,
Udaipur - Ramya Resort & Spa,
Pushkar - Pushkar Palace.
Facilities
All the wonderful hotels you'll stay at throughout your tour will welcome you with much needed air-conditioning, beautiful en-suite rooms all comfortably decorated with a TV, Phone, Wi-Fi access, Safe and fabulous views in a relaxing environment.
We're sorry ! New departures coming soon.
Taj Mahal
As one of the world's most popular sightseeing destinations, without any hesitation once you see the Taj Mahal it will be forever captured in your memory as the finest pieces of architecture ever created. Stand in awe, capture photographs and meander around stunning gardens all built over a period of 20 years in dedication to Mughal Emporer Shah Jahan's third wife.
Fatehpur Sikri
Once the capital until 1585, this city is situated in the state of Uttar Pradesh and founded by Mughal Emperor Akbar. Today it is very much a ghost town, ruins of the bazaars and vacant imperial buildings still standing perfectly preserve a time forgot. The highlight is the palace, its fairy tale structure was created using traditional methods and influences in local red-sandstone, it is surrounded by walls and a picturesque lake to one side.
Other highlights and points of interest in the Sikri include the Jama Masjid, Buland Darwaza, Panch Mahal and Tomb of Salim Chishti.
Amber Fort
Set on a pedestal ooverlooking the gardens and lake below, Amer Fort comprises of four sections; intricate, detailed courtyards, private quarters and exquisite entrance gates. The best times to visit are early morning or in the evening, in the mornings the fort glows in its soft light, sandwiched between lush greenery, the mountain background and the blue sky, while in the evening, the structure's warm hue is a picture that will stay with you for an eternity.
Raj Ghat
A must see on your trip is the cremation site and memorial to the Father of the Nation, Mahatma Gandhi. Raj Ghat is a simple black marble platform marking the spot where Gandhi was cremated on 31 January in 1948. Located by the River Yamuna and within beautiful grounds, it has several beautiful lawns fitted with fountains, where you can sit and relax, whilst taking in the peaceful surroundings. 
Elephant Ride
Not something you hear everyday, an unforgettable experience on one of India's most treasured creatures. At Amber Fort you'll have the opportunity to ride along a narrow road up to the Sun Gate. 
Pichola Lake and Palaces 
Since The Taj lovingly restored the palace to its former grandeur and beauty and it has become one of the romantic destinations in the world. The Lake Palace complex is a series of architectural wonders in their own right, the walls of this masterpiece are made of white and black marble and adorned with semi-precious stones. Elaborate gardens, fountains and pillared terraces adorn the interiors of the palace and magnificent courtyard. The Lake Palace is world famous and has been the site for several iconic film shoots like the James Bond film, Octopussy.
What is included in the tour
Stay at 4 star Hotels throughout the tour
Your own single occupancy en-suite room 
Daily Breakfast & Dinner
Flights from any UK airport
All Taxes & Surcharges
20Kg Baggage allowance and 5kg hand baggage.
All transfers
Coordinated site-seeing and activities as per Itinerary
Entrance fees to the sites as per itinerary
Dedicated GoSingles host at the hotel
Welcome get together
Meet other single, like minded travellers who wish to socialise and make new friends
Price and itinerary may be subject to change
Price excludes: Indian visa
All British passport holders must obtain the holiday visa in advance at least 72 hours prior and not more than 30 days in advance of your departure.
The cost for Indian Tourist Visa for 1 month is US$25 (approx. - £22) from July - March & US$10 (approx. - £10) from April - June and you can purchase from the India Government website  https://indianvisaonline.gov.in/visa/tvoa.html failure to comply with entry requirements will result in travel being denied or entry refused.
Use this code to avail this offer
- SAVE £50 ! Use code: SAVE50
Holiday Types
Festive, Multi Activities, First Singles Holiday, Over 50s, Discovery Tours, Late Deals