The Capitals of Russia - Moscow & St Petersburg
MOSCOW
Where do we start with Moscow, so many choices and so many things to see and do, it's wonderful architecture, it's deep history or it's fast moving modern society all live side by side in this fascinating capital.
We all know Red Square, so what better place to start, a symbol of Russia's power and might with the red bricked Kremlin sitting at it's Eastern wall. Visit St Basil's Cathederal, a vibrant candy coloured Christian church which draws visitors daily or take in the romance of the historic Bolshoi Theatre.
If a more leisurely experience of Moscow is more to your liking then a trip around Gorky Park certainly takes life at a slower pace. Festivals, art exhibitions and food kiosks scatter the park, all selling their wares as you cycle through the labyrinth of walkways to sample each one at your leisure.
ST PETERSBURG
St Petersburg has been given the name of 'the cultural capital' and quite rightly so, offering tourists a wealth of romance, excursions, historic tours and an abundance of places to eat, drink and dance into the night with lively locals who are always happy to point you in the right direction to the latest bar, restaurant or club.
With over 250 museums, St Petersburg doesn't just offer lively nights and fine fayre, those who love masterpiece paintings and sculptures are spoilt by what this colourful city has to offer.
Wherever you go in St Petersburg, one thing you will find in abundance is 'hospitality', information and advice freely offered by both young and old, proud of their history and looking forward to their future.
7 Nights 8 Days
Available on request
Grand Tour Of Russia - Itinerary
Day 1 - London to Moscow
After a warm welcome to Russia, you will be transferred to your hotel in Moscow where you will stay for the first 3 days. Depending on the time of your arrival, we can organize an activity, or simply have a splendid afternoon in the Russian capital and overnight stay in Moscow.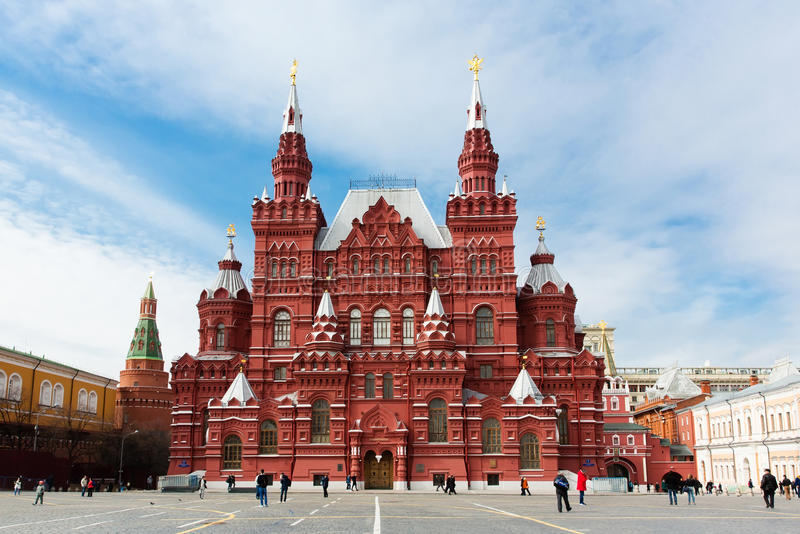 Day 2 – Moscow City Tour
After Breakfast,  you will begin your tour of fascinating Moscow City.  We start at Red Square, Lenin's Mausoleum and St. Basil's Cathedral with its famous multicolored domes built by order of Tsar Ivan the Terrible; we will see the magnificent building of GUM or "Universal Top Shops", where historically the center of the country's largest trade was. Nearby is the famous Bolshoi Theater, the imposing building of the Lubyanka, the former KGB, close to the wonderful churches of the old Kitay Gorod. Next stop will be near the majestic Cathedral of Christ the Savior of the Patriarch of Moscow, the highest Orthodox Church in the world.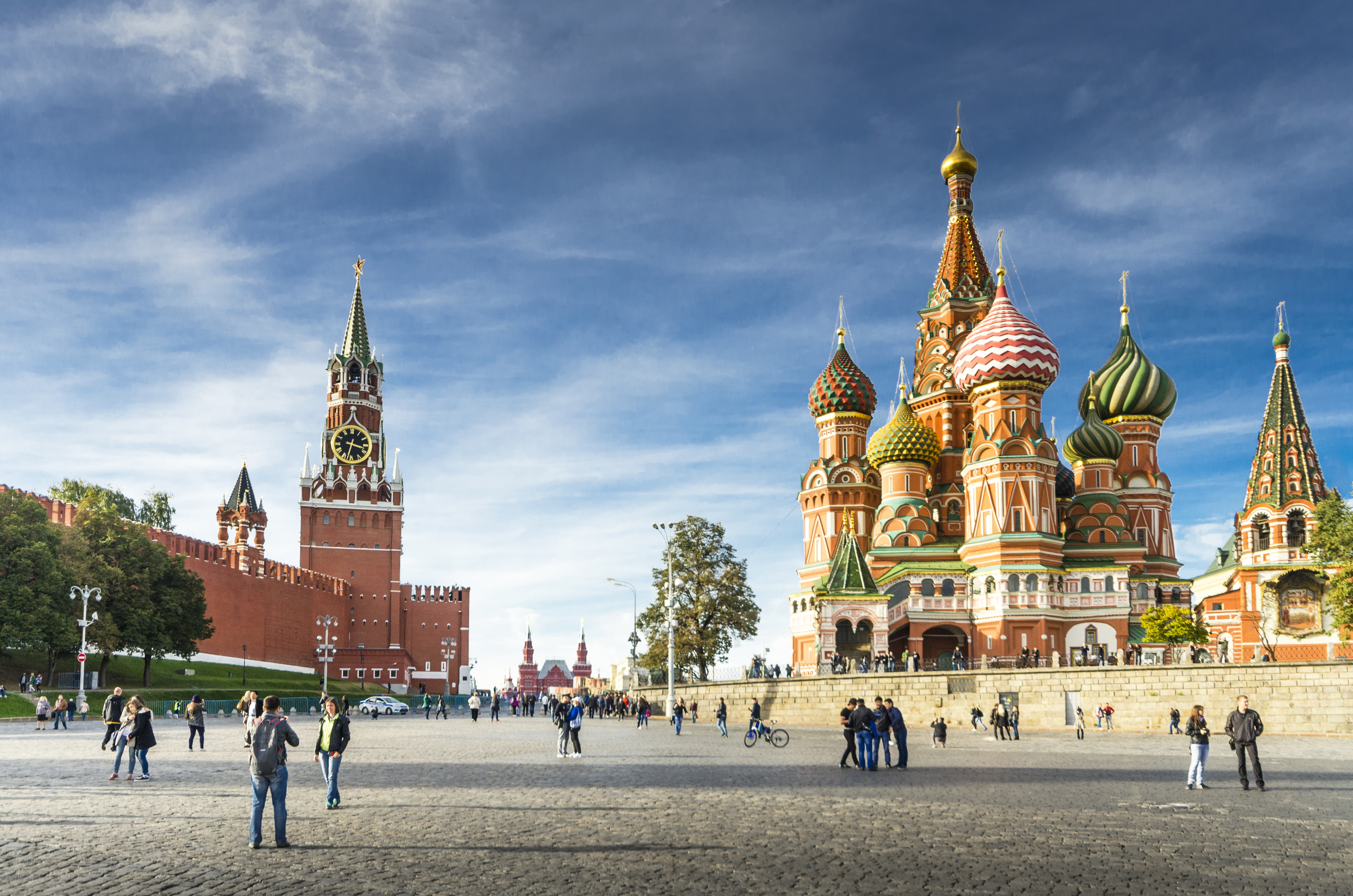 We will visit Moscow Subway, opened in 1935 and considered as a true museum. Today it is the main means of transport in the city with 300 km of lines and 182 stations, 44 of which are considered the heritage of cultural heritage of the country. Overnight stay in Moscow.
Day 3 – Moscow
After breakfast, we visit the territory of the ancient fortress called Kremlin, XII century. Even now, all the major organs of political and religious government are located on its territory. We visit the Assumption Cathedral, Cathedral Arkhanguelsky, the Belfry of Ivan the Great and other monuments. Overnight in Moscow.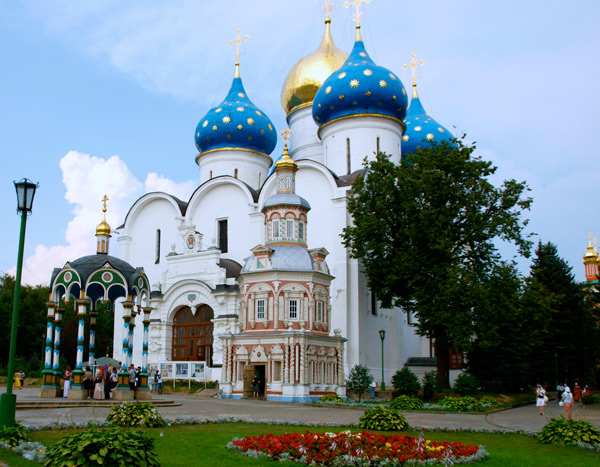 Day 4 – Moscow to St. Petersburg
After breakfast you will be transferred to the railway station for the fast train Sapsan. On arrival in St. Petersburg, you will be met by your guide and will be transferred to your hotel for overnight stay.
Day 5 – St Petersburg City Tour 
After breakfast, we have city tour of St. Petersburg: Nevsky prospect we travel - the splendid Vasilievsky Island - the old port, the university area, the Theatre Square, we enter to the Church of St. Nicholas, district of Fyodor Dostoevsky, Saint Isaak 's Square and St. Isaac 's Cathedral with its huge columns of red granite, you will see the Battleship Aurora- old imperial Navy, whose cannon on October 25, 1917 marked the beginning of the Russian Revolution. Then we visit the Peter and Paul Fortress. In 1998 in a chapel of the Cathedral buried the remains of the last Russian Emperor Nicholas II and his family. Overnight in St. Petersburg.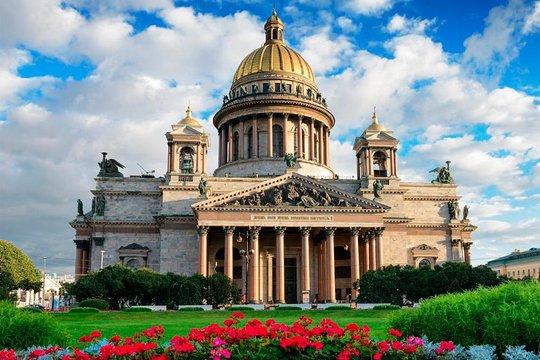 Day 6 – St. Petersburg
After breakfast, we will visit the country's largest museum- Hermitage, you will walk through the Winter Palace, residence of the czars that consists of 5 buildings. Today the Hermitage remains one of the largest art galleries in the world. The Museum has a collection of paintings of the Italian, Flemish, French, Spanish painters etc. The works of Leonardo da Vinci, Raphael, Rembrandt, as well as Matisse, Gaugin, Van Gogh, Picasso etc. Free time in the afternoon. Overnight in St. Petersburg.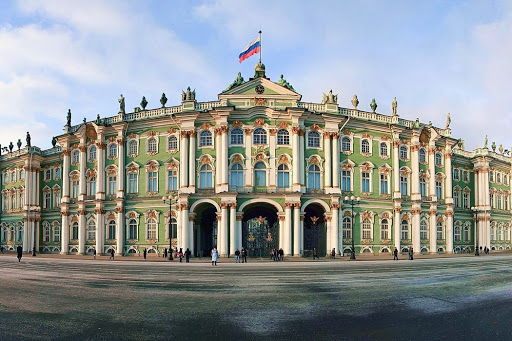 Day 7 - St. Petersburg
After breakfast. We will visit Peterhof, also called Russian Versailles " was the main summer residence of the tsars. Located on the southern coast of the Gulf of Finland, by the sea and about 25 km from the city of St. Petersburg, it is undoubtedly one of the main attractions of the ancient imperial capital. It is a vast complex including the Grand Palace and the park to visit, and several minor pavilions and palaces scattered across the beautiful gardens. These have a special attraction with its 150 fountains and three waterfalls, along with the colorful " water games" , all ornate golden statues of incomparable beauty. Overnight in St. Petersburg.
Day 8 – St. Petersburg - London
Time to say Proshchay to Russia and transfer to the airport for your flight from St Petersburg to the UK with many fond memories and a wealth of knowledge that this magnificent country has to offer.
Park Inn Radisson Sadu ****
Park Inn is situated in the heart of Moscow's historic centre, makes it easy to explore the city with many famous sights are within walking distance of the hotel. Travel back in time as you explore the Kremlin's massive fortifications, or head to Red Square to admire the unique onion-shaped domes of St. Basil's Cathedral. The State Tretyakov Gallery, which contains 1000 years of Russian art, is just 100 meters from the hotel. During you stay in Park Inn, you can observe unique combination of imperial architectures, Soviet history and its vibrant nightlife.
Accommodation
Each of 118 elegant and comfortable rooms has satellite TV, free bottled water and high-speed Wi-Fi. You will also receive our signature breakfast buffet free of charge. The elegant Cafe SADU restaurant offers 24/7 dining with a wide range of dishes, including classic local dishes and delicious desserts. After sightseeing, you can enjoy a cocktail in our bar, which is also open 24/7.
Sokos Hotel, St Petersburg
Sokos Hotel Olympia Gar¬den is lo¬cated in the his¬tor¬i¬cal centre of St. Pe¬ters¬burg with easy access to all major tourist attractions. The interiors at Sokos Hotel is warmly furnished with rich colours and wooden floors makes it a perfect place for a cosy stay.
Accommodation
All 348 stylish rooms at Sokos Hotel are a great mix of comfort and tastefully dec¬o¬rated. The hotel offers free Wi-Fi, flat-screen TV, the bathrooms include a bath, shower and toiletries. A full breakfast buffet is served at the Sokos. Guests can also enjoy Russian and European cuisine in Mr. Grön restaurant, which features elegant décor and an inviting fireplace. Sports' Bar 84 screens sports games and offers a variety of beer and burgers. Guests at Sokos Hotel Olympia Garden are welcome to relax in the gym, sauna or in the lobby bar. The 24-hour reception can offer travel tips or a shuttle to St. Petersburg Airport which is 6.2 miles away.
We're sorry ! New departures coming soon.
What is included in the tour
Stay at 4* hotels on the tour (Park Inn Radisson Sadu Moscow & 4* Soko ( or similar category hotels)
Your own single occupancy en suite room 
3 nights accommodation in Moscow
4 nights accommodation in Saint-Petersburg
Meal - Bed & Breakfast
Flights from any UK airport
All Taxes & Surcharges
20Kg Baggage allowance and 5kg hand baggage.
All transfers indicated in the itinerary by coach with the guide 
Fast train ticket Moscow- Saint Petersburg (tourist class)
Domestic flight Saint Petersburg - Moscow (last day)
The Museum Entrances as per itinerary 
English speaking guide throughout the tour
Visa documents support
Airport transfers
Dedicated GoSingles host at the hotel
Welcome get together
Coordinated Singles only site-seeing and activities (Optional Extra)
Meet other single, like minded travellers who wish to socialise and make new friends
Russia Visa Information      
Visa applications for UK residents are to be submitted online https://ru.vfsglobal.co.uk/ at the Russia Visa Application Centre in London, Manchester or Edinburgh
The visa fee is £101.40
Use this code to avail this offer
- SAVE £50 ! Use code: SAVE50
Holiday Types
Festive, Multi Activities, Sun & Sand, Winter Sun, First Singles Holiday, Over 50s, Discovery Tours, Late Deals