Malta
Step back in time on the beautiful Island of Malta, where historic cultural influences of rulers including the Romans, The Moors, The Knights of Saint John, the French and The British are evident in every town and city you visit.
A small group of islands in the central Mediterranean, south of Sicilly, Malta has played an important role in the development of the region, providing host to the emerging European powers and ancient cultures of Africa and the Middle East.
The capital city of Valletta, nicknamed 'Proudest', is indeed a proud and imposing city, with it's walled fortifications and Grand Harbour dating back to the 1500's when founded by French nobleman Jean De Valletta. Valletta was deservedly honoured as a World Heritage Site by UNESCO in 1980.
A visit to Gozo is a must when visiting Malta, a small island in the North West Gozo is rich in history and is diverse in it's character with both ancient and modern influences running through it's DNA.
Gozo boasts many beautiful churches, beaches, island coves and wonderful restaurants serving the fresh daily catch and is considered to be one of the best diving destinations in the Mediterranean due to it's vast array of sea life and crystal clear azure waters.
SLIEMA
A seaside resort on the east of the island, Sliema is a magnet for tourists and travellers alike who wish to sample the historical importance the island has to offer. Along with a vast array of restaurants, bars, cafés and shops Sliema offers everything to keep your taste for Maltese culture sharp.
A once quiet fishing village Sliema has emerged as one of the favourite places for locals to meet in the summer season, gathering on the large coastline promenade, known as the Sliema Front, to mingle, walk, jog or discuss plans for a wonderful evening in the hub of social nightlife.
With wonderful beaches, open air restaurants, water sports and moonlit views across the harbour, Sliema is everything and more on your Maltese adventure.
7 Nights 8 Days
04 Jul, 05 Sep, and 10 Oct
HOTEL PRELUNA ****
The Preluna Hotel could not be better located, set right in the heart of Sliemas seafront with unobstructed views of the beautiful blue waters and surrounding areas beyond. 
A short stroll in the endless sunshine or a romantic walk under the glistening moonlight takes you to the hub of Sliemas nightlife with bars, restaurants and social gatherings all on your doorstep. 
Facilities
3 bars,
A spa,
A large salt water swimming pool,
Private beach,
Sun terrace,
Jacuzzi,
Mini golf,
Diving school,
Free wifi.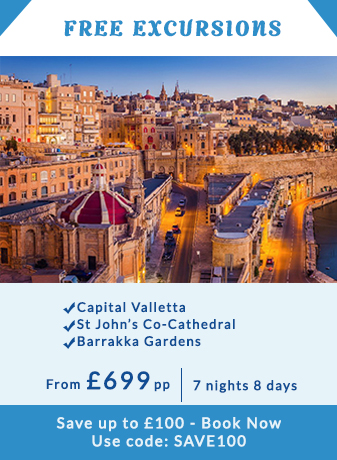 We're sorry ! New departures coming soon.
Malta
Whilst Sliema offers everything you need right on your doorstep, why not spread your wings and discover the wonderful things Malta has to offer. Malta is such a small island that everything is within easy reach with a day trip on a speedboat, a bus ride or a long stroll in the beautiful sunshine. 
Valletta
Take a trip to visit St. John's Co-Cathedral in Valletta, which is considered to be the finest example of High Baroque architecture in Europe, with 7 chapels packed with opulent riches and of course the masterpiece 'The Beheading of St. John The Baptist' by Caravaggio himself. 
Mdina
Visit Mdina Old City, the old capital of Malta, surrounded by historic walled fortifications, with narrow streets full of secrets and intrigue. Satisfy your curiosity and quiz the locals about the history of Mdina, whilst enjoying local fare in one of the town's cafés or restaurants. 
Island Of Comino
A holiday in Malta wouldn't be complete without a boat ride to the island of Comino and the famous Blue Lagoon. Trek the rugged island coastline or spend the day enjoying the crystal clear blue waters whilst enjoying fresh seafood and your favourite beverage in the never ending sunshine. 
Resturants & Bars
For those wishing to stay closer to the hotel there are plenty of restaurants and bars to whet your appetite with local cuisine, fresh daily seafood and Best of British home from home bars. The Charles Grech Bistro, the Black Sheep, Nappa Bar, Rubino, Ta' Kris, La Vida Bar De Tapas, Little Argentina and The Step Down Bar are all highly recommended and offer a vast range of flavours to cater to everybody's taste.
What is included in the tour
Stay at the 4* Hotel Preluna 
Your own single occupancy en-suite room
Half Board - Daily Breakfast & Dinner
Flights from London Gatwick or Manchester 
Flights from your local airport at a small supplement
All Taxes & Surcharges
20Kg Baggage allowance and 5kg hand baggage.
Airport transfers
Free Excursion to Capital Valletta, Medina, St John's Co-Cathedral & Barrakka Gardens
Dedicated GoSingles host at the hotel
Welcome get together
Coordinated Singles only site-seeing and activities (Optional Extra)
Meet other single, like minded travellers who wish to socialise and make new friends
Flight Timings - 
Outbound - London Gatwick 06:25 - Malta 10:40 
Inbound - Malta 11:30 - London Gatwick 13:50 
Outbound - Manchester 06:25 - Malta 10:25 
Inbound - Malta 11:20 - Manchester 13:50
Optional Extras
Upgrade to Sea View Room - £79 per week
Price excludes Tourist Tax approximately Euro 2/ person/ day to be paid locally
Use this code to avail this offer
- SAVE £50 ! Use code: SAVE50
Holiday Types
Festive, Sun & Sand, Winter Sun, First Singles Holiday, Over 50s, Discovery Tours, Late Deals